How short is the life of a toy? From "The Steadfast Tin Soldier" to "Toy Story," many storytellers have sung the tale of the ephemeral, however shiny, existence of dolls, puppets and spaceships. From kings of the nursery to outcasts of the garbage: an ineluctable destiny, to which consumerism and marketing, together with the growing lack of attention span of digital natives, have accelerated.
But if obsolescence is physiological in this case (children simply grow up), something can be done — and is starting to be done — to make the increasingly impressive toy industry a little more circular.
All the toys in the world
Estimating the size of the toy industry is at least as daunting a task as counting all the toys in your kids' room. According to Statista.com, the global toy market was valued at $95 billion in 2020. That figure even rises to $129 billion according to Fortune, which also estimates growth to $141 billion in 2021, a 22 percent increase in sales in the year of the pandemic.
Certainly, if the size was already important, COVID-19, with its various quarantines and distance learning spells, has given the market a big boost. This is also confirmed by Christian Ulrich, spokesman for Spielwarenmesse Nuremberg, the world's largest toy fair, which closed its 2022 edition Feb. 6. "During the pandemic, families were looking for varieties of ways to keep themselves and their children occupied," Ulrich tells Renewable Matter. "Outdoor toys and building bricks were a guarantee of sales. As well as board games and puzzles, which were the subject of a real rediscovery and spurred tremendous growth in the industry."
A sector in which, needless to say, China is the absolute export champion, with a value that in 2020 exceeded $70 billion (via Statista), while the United States takes the podium as the largest importer, with over $36 billion worth of foreign toys entering the bedrooms of American children every year.
...and all those that end up in a landfill
However, when it comes to figuring out how much of this enormous production ends up in landfills each year, the numbers disappear. Some have tried to make estimates based on household surveys. For example, a British charity found that 28 percent of parents throw away toys that are still in perfect condition, while as many as 47 percent admit that their children get tired of a new toy after just one week. For France, 3D printer company Dagoma, which created the Toy Rescue project, made a more accurate estimate: French families throw around 40 million toys into the trash every year.
However, it is almost impossible to have consistent data, above all because discarded toys do not follow their own separate flow, but end up with undifferentiated waste. The reason is mainly a matter of economic convenience, as explained by the press office of TerraCycle, an American company that has set itself the goal of implementing systems to recycle all non-recyclable items, such as toys. "When the object is a mix of complex materials, as is the case with the vast majority of toys, the collection, sorting and recycling operations cost more than the value of the resulting recycled material: therefore, there is no economic convenience. This is why traditional recycling systems in Europe and around the world do not recycle toys."
A British charity found that 28% of parents throw away toys still in perfect condition, and as many as 47% admit their children get tired of a new toy after just 1 week.
What's worse, the toy industry is undoubtedly the kingdom of plastic. According to a much-cited estimate reported a decade ago by Plastics-the mag, about 90 percent of toys are made of some type of plastic, most often not recyclable. According to UNEP, toys are the most plastic-intensive industry in the world (Valuing Plastic, 2014). Add to that the packaging, which is often an essential part of the "toy experience" as designed by marketing (just think of the various Kinder eggs, LOL Surprise! and the like), and the environmental impact is served.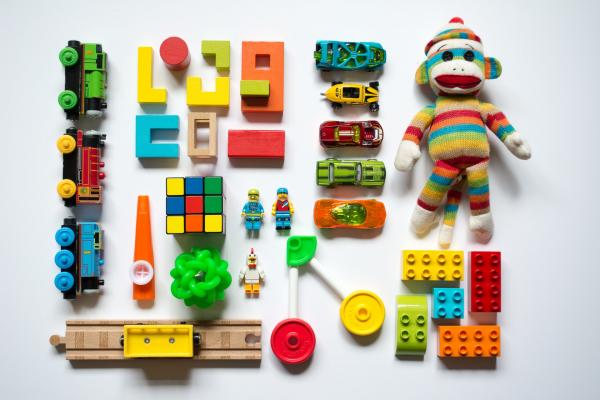 Toys go green
Plastic is undoubtedly a dream material: malleable, protean and cheap, it has popularized the toy, making it accessible to all and in ever-increasing quantities. It's hard to say no. Yet something is changing, from the point of view of green sensitivity, even when it comes to buying a toy. Attention to sustainability and environmental impacts is a theme that marketing has to deal with; but what is surprising about the toy sector is that it is not only the adults who open their wallets who are concerned, but the children themselves. It's not uncommon to read about petitions launched by 10- to 12-year-olds (mostly girls, admittedly) asking for a ban on plastic toys or for fast-food chains to replace their gadgets with something more environmentally friendly.
The trend has become physiological, as Ulrich confirms: "Demand is growing for toys that are made from ecologically sound materials or that promote environmentally conscious behavior." And the Spielwarenmesse is also gearing up in this regard: "With our Toys go Green megatrend, we are placing a focus on such products and approaches to play. In addition, every year we recognize outstanding toys with the ToyAward, which has been expanded in 2022 to include a new Sustainability category."
So what are the strategies for turning toys more sustainable and circular?
Sustainable or recycled raw materials
First of all, the materials used for production can be a starting point. "More and more toy manufacturers are developing and marketing products from materials with circular and bio-based qualities," explains Ulrich. "They are looking for solutions that allow further development of traditional plastics and the production of goods based on sustainable and renewable raw materials, for example, resources such as sugar, starch and cellulose. That aside, the issue of recycling has also found its way into the world of toys. In this area, producers are making use of recycled plastic or are using recycled components."
A recent example comes from the toy industry giant par excellence: Lego. The Danish company launched last summer the first prototype brick made of recycled plastic, in this case, PET bottles, and has also been working to create parts of its construction sets in bioplastic for several years.
Then there are those who, without being a colossus in the industry, have been carving out a green niche in the toy industry for years. This is the case of the Californian company Green Toys, which has an endless catalog of toys all made from 100 percent recycled plastic from milk bottles, which are so common in the States.
Italy, on the other hand, is breaking new ground. In November, the historic brand Clementoni, thanks to the collaboration with Pampers and Fater, announced a novelty in its line of toys for early childhood in recycled plastic: a Baby Garden made with 15 percent of materials derived from recycled diapers.
A box to save them from the incinerator
A Dantesque mouth of fire opens wide to swallow the cowboy Woody, Barbie, Mr. Potato Head and the other heroes of "Toy Story 3," who have ended up in a circle of hell for toys. The terrifying incinerator scene is now part of our collective imagination, but this does not have to be the fate of discarded dolls, cars and puppets.
While it is true that there is no dedicated supply chain for the recycling of toys, several brands are organizing themselves by their own means or by relying on those who have made it their mission to "recover the non-recyclable." Among these, there are real market leaders such as Hasbro, LOL Surprise!, Mattel and Zuru, who have announced partnerships with the American company TerraCycle, founded by Tom Szaky with the precise intent of "eliminating the idea of waste."
"We work with several leading toy brands globally to offer free recycling programs which members of the public can sign up to and collect waste on behalf of their communities," TerraCycle tells us. And when there are no free corporate-sponsored programs, TerraCycle turns directly to the goodwill of citizens, offering various recycling solutions through the Zero Waste Box platform.
Several brands are organizing themselves by their own means or by relying on those who have made it their mission to 'recover the non-recyclable.'
"How it works is simple," they explain. "In the case of our Toys Zero Waste Box, the cost to the consumer includes the delivery of the solution, the shipping cost back to TerraCycle and the recycling cost of the full box of the accepted waste stream. Simply choose the box size required (small, medium or large); when you receive the box, fill it with toys and games you can't recycle with your local council, such as non-electronic plastic toys, plastic building blocks, plastic tea sets and play kitchen sets, plastic dolls, soft toys, baby toys (non-electronic) and action figures, cards, dice, game boards, game pieces, packaging from board games, building sets, puzzle pieces, etc. Once full, take the box to any UPS location or schedule a collection to send your items back to TerraCycle using the pre-paid UPS shipping label already affixed to the box. When TerraCycle receives the box, we recycle all of the collected materials, saving them from landfill or incineration."
The recycling process is quite complex, given — as mentioned — the number of materials a toy is generally made of: "Toys and games are sorted and stored at our warehouses and then sent to a processor where they are mechanically or manually separated into fabrics, metals, fibers and plastics. Fabric scraps are upcycled or recycled as appropriate. Metals are smelted so they may be recycled. The fibers (such as paper or wood-based products) are recycled or composted. The plastics undergo extrusion and pelletization to be molded into new recycled plastic products." There's no guarantee that the materials recovered in this way will re-enter the toy production cycle: TerraCycle is mainly in charge of providing recycled raw material for industry, which can then turn it into anything else, from a lawn chair to a wastebasket.
A good game lasts — a long time
"Of all our solutions, the Toy Zero Waste Box is definitely not the most popular," admits TerraCycle. The reason, however, is not unfavorable to consumers, on the contrary: most people prefer to donate their used toys instead of recycling the materials.
After all, the reuse and extension of the life of objects — it is always good to reiterate — constitute the first and most important links in the circular economy, because they conserve the entire value of the product, not only the raw materials but also the energy invested to manufacture it. And, in the case of a toy, its emotional value.
The first options when it comes to getting rid of used toys are usually to "leave them as a legacy" to children, grandchildren, cousins and children of friends or donate them to schools and kindergartens. There is also the option of toy libraries, which in recent years are becoming increasingly popular, especially in the Anglo-Saxon world. Unlike playrooms, spaces where children go to spend extracurricular hours, usually in the presence of educators, toy libraries lend out dolls, building blocks and board games for short periods of time, just as they do for books.
The model is similar to the tool libraries: a service to the community in line with the principles of the sharing economy. The libraries can be completely free or require a subscription, but the benefit is priceless. Children are presented with an enormous choice that satisfies their desire for novelty and doesn't leave them time to get bored of any toy; families don't find themselves inundated with puppets and spaceships they don't know how to dispose of, and they save money, so that even those who don't have great financial means can afford to let their children play with whatever they want. In addition, it is a good antidote to the urge of possession and a fun way to teach the value of sharing from an early age.
Toys' emergency room
In order for toys to be used and reused for a long time, however, they need to be designed to last. And that's not always the case. One of the most common problems is the inability to repair them when they break, mainly because there's no way to get replacement parts. Arms, legs, heads (it's kind of horrifying, admittedly), wheels, doors, wings, guns, horns, helmets and space halberds all fall off, break or get lost. And the playmate thus becomes trash material.
The young French company Dagoma, whose core business is 3D printers, has therefore decided to remedy this carnage by inventing the Toy Rescue project. The idea, launched in January 2020, is to put online for free projects to 3D print various parts of toys that usually break, so that everyone can repair them independently.
The first question at this point is: how to choose from the millions of toys produced and marketed? "We started by choosing the best sellers of the last 40 years," Matt Regnier, CEO of Dagoma, tells Renewable Matter. A tour of the Toy Rescue website can actually turn into a trip down memory lane: there's Barbie, of course, but also Big Jim and Bratz, Mini Ponies, Star Wars characters and Marvel super-heroes, He-man, Ninja Turtles, Furby, Mr. Potato Head, Hot Wheels and hundreds of others. "And for those who need a piece that is not among those we have designed," adds Regnier, "you can always send us an email request and we will add it to the catalog."
All, incredibly, for free. The initiative (which, needless to say, was an immediate success) is based on the natural inclination to cooperate and share of the makers community, that is, the users of 3D printers. "If you have a printer at your disposal, then you can do it yourself. If not, through our platform you can find the nearest Dagoma printer owner to your home and get in touch with them directly. We don't really know if people then agree on a payment among themselves, but from the feedback we receive," says Regnier, "it always comes for free, for the pleasure of contributing to a more sustainable world."
Dagoma's network is primarily French, but their toy emergency room is gaining popularity worldwide and counts connections from various European countries (including Italy), the United States, Brazil and even Taiwan and China. "The time is ripe for this kind of initiative," Regnier concludes. "We are doing our small part, but we'd need hundreds of efforts just like this."
In the meantime, however, a few solutions to repair, reuse and recycle toys already exist. All you need is the goodwill to look for them. Especially as no ex-children like the idea of sending their old playmates straight into the fire mouth of an incinerator.