From Tesla to Mercedes-Benz, automakers become energy companies
New battery offerings and alliances with renewable energy providers are catalyzing a shift with big implications for the power grid.
Drive your electric car to your solar-powered home, plug it in to charge and enjoy the flexibility provided by the oversized battery parked in the driveway.
It's a long-sought environmental ideal, but one that may be getting closer to reality as automakers throw their technical expertise and deep pockets more directly into new ventures in the energy business.
"This is the integrated future. You've got an electric car, a Powerwall and a Solar Roof. It's pretty straightforward, really," Tesla Motors founder Elon Musk explained to Fast Company at a model all-electric neighborhood earlier this summer. "[This] can solve the whole energy equation."
Aside from the union of Musk's clean energy empire, with Tesla's late 2016 acquisition of SolarCity, German luxury carmaker Mercedes-Benz launched a U.S. energy division in November. BMW, Ford and other auto companies are also doing their own cenergy storage and vehicle-to-grid pilots with a range of utilities and renewable energy providers.
All told, Greentech Media counted 10 battery "Gigafactories" in the works worldwide as of late June, although Musk has teased several additional Tesla plants. Along with large-scale projects driven by Tesla and a $500 million-plus Daimler factory being built in Germany, businesses in other industries are also investing in battery production infrastructure, including Johnson Controls and a range of global power company consortiums.
A Bloomberg New Energy Finance forecast predicts that major automakers such as Volkswagen and Renault will provide demand for a significant amount of new battery manufacturing capacity expected to come online in the next four years. By 2021, Bloomberg expects capacity to reach 278 gigawatt-hours, up from about 103 gigawatt-hours now.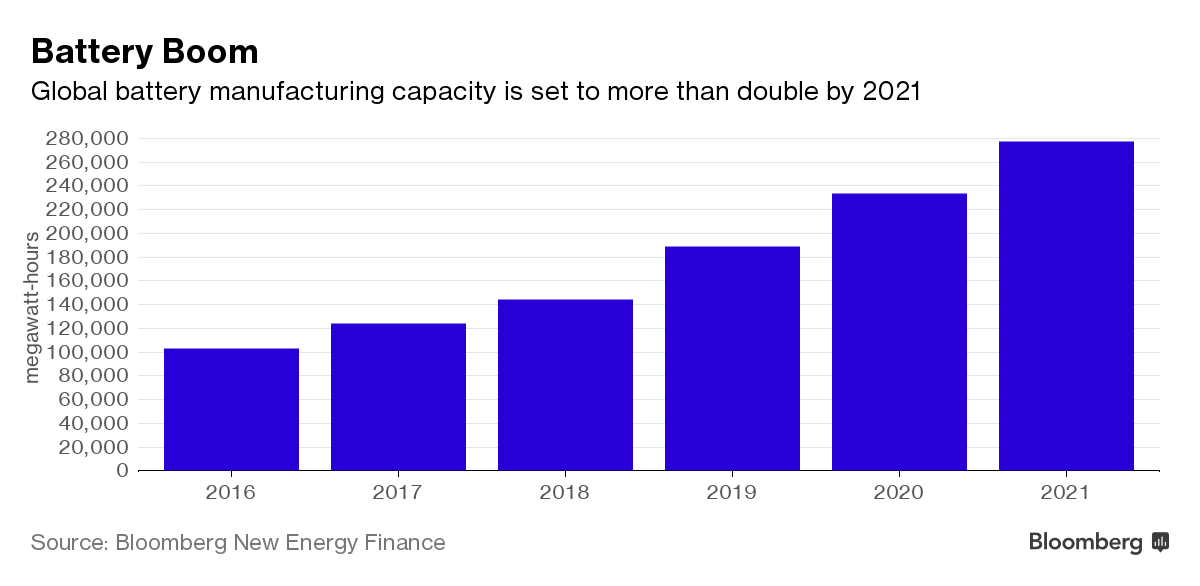 While it's still relatively early days for putting electric vehicles to work as assets on a changing power grid, home sweet home is emerging as the first battleground for automakers looking to capture market share in the energy storage space.
Take the deal announced this spring between the new standalone outfit Mercedes-Benz Energy Americas and solar panel distributor Vivint Solar, where Mercedes will provide the batteries using the same battery chemistry as the automaker's cars.
For Vivint Solar COO Brian Christensen, the decision to partner with a company with roots in the car business was easy. He sees a natural fit between Vivint's focus on residential solar, increasingly in-demand smart home systems and back-up power or storage capacity provided by Mercedes home batteries.
"As I look at how industries are evolving, I think there is a really good fit between the automotive industry and the home," Christensen said in an interview. "Look at what people spend the most money on."
Seeking scale
With the Vivint and Mercedes-Benz Energy deal, the companies have partnered to offer home battery systems starting at 2.5 kWh, with the potential to add additional modules up to 20 kWh. Rather than leasing the modules like some residential solar systems, the batteries are purchased up front.
"They're stackable, and that's the beauty of it," Christensen said. "A consumer could want a very little amount and pay less for it."
In addition to adding value to a residential solar system by allowing users to store energy and take advantage of time-of-use rates, he said market polling in more than a dozen states revealed a range of motivation among would-be battery buyers.
Of consumers looking to go solar within the next five years, Vivint found that 79 percent were interested in batteries as back-up power sources, 74 percent to help save money, 72 percent to inch closer to utility independence and 67 percent to use renewable power generated during the day at night. Besides, clever homeowners are already buying storage systems.
"Consumers were already building that bundle of solar plus smart home on their own," Christensen said.
You have a really great battery driving in and out of your home.
Longer term, however, the potential is to scale up what's learned at the home or neighborhood level to commercial structures such as office buildings and even utility-scale projects. Tesla and Mercedes-Benz Energy Americas both have commercial divisions, and a spokesperson for the latter said the company is already eyeing energy business opportunities beyond residential batteries.
"Mercedes-Benz Energy is not only focused on energy storage, but rather looking at the whole ecosystem of home energy solutions to support a customer's transition to an electric vehicle," according to a statement from the Silicon Valley outpost of Mercedes-Benz Energy Americas provided to GreenBiz. "This encompasses several services from storage and renewable generation to smart home energy management, managed charging and more."
From a business model standpoint, the company is looking to replicate the model of spinning out more agile technology divisions pioneered with Daimler carsharing subsidiary car2go — a model being replicated by others in the industry, such as General Motors offshoot Maven and Ford Smart Mobility, although those ventures so far have been focused on ridesharing and connected car technology over new energy business lines.
"Being our own entity gives us the ability to navigate the energy storage space with the speed and flexibility of a startup, while still utilizing the resources and power of the Mercedes-Benz brand," according to the statement from Mercedes-Benz Energy Americas, which added that the company's parent automaker plans to have 10 all-electric models on the market by 2022.
While the race accelerates between automakers trying to get out ahead in the fast-moving energy storage industry, those working in renewable energy are eager to apply their parent company's next generation EVs to evolving energy systems.
"You have a really great battery driving in and out of your home," said Vivint Solar's Christensen. "You can figure out how you want to leverage that battery."
More on this topic