You, too, can master supply chain emissions
How to get a handle on often unwieldy scope three emissions.
Today, most major companies publicly report their emissions to CDP, an international corporate emissions platform. As sustainability managers know, corporate emissions come from a variety of sources, which are grouped into "scopes."
Scope 1 = the emissions from owned or operated assets (for example, the fumes from the tailpipes of a company's fleet of vehicles)
Scope 2 = the emissions from purchased energy
Scope 3 = the emissions from everything else (suppliers, distributors, product use, etc.)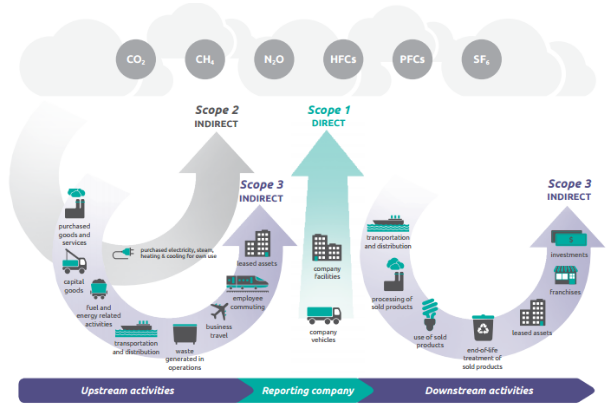 Needless to say, measuring scope 3 emissions is a big undertaking. But it matters: for many businesses, scope 3 emissions account for more than 70 percent of their carbon footprint.
Measuring and managing these emissions can motivate a company to do business with greener suppliers, improve the energy efficiency of its products and rethink its distribution network — measures that significantly reduce the overall impact on the climate.
Measuring value chain emissions also can earn companies a gold star with investors and stakeholders. CDP scores companies based on climate change-related information collected through its global environmental disclosure system. These scores then are shared with CDP's large investor network representing more than $100 trillion in assets. Companies earn points toward this score by disclosing emissions from scope 3 categories.
Taking responsibility for value chain emissions is also a requirement for joining the Science Based Targets initiative, a growing cohort of companies that are recognized for aligning their emissions-reduction targets with climate science.
If your company does not yet account for scope 3 emissions, you may wonder where to start. Here are a few essential resources to guide you through the process:
1. GHG Protocol Corporate Value Chain (Scope 3) Standard
The Greenhouse Gas Protocol's Corporate Value Chain (Scope 3) Standard is the go-to handbook on measuring value chain emissions. It builds on the Corporate Standard, which covers a company's scope 1 and 2 emissions. The Scope 3 Standard divides value chain emissions into 15 categories, both downstream and upstream of the company's operations.
2. Scope 3 evaluator
Following the instructions in the 150 page-long Corporate Value Chain (Scope 3) Standard can be a significant undertaking, and sometimes corporate sustainability teams just need a quick, rough estimate of their company's value chain emissions.
To make this possible, GHG Protocol and Quantis teamed up to develop a free, online, easy-to-use evaluation tool based on the scope 3 standard. This tool can be used by any company, regardless of type or size.
After answering a series of questions about organizational structure, operational activities, use of fuels, transportation and other aspects of their business, users are given a simple scope 3 inventory that can guide future emissions reductions.
3. Scope 3 calculation guidance
For companies just beginning to assess their scope 3 emissions, it can be difficult to know where to start. This calculation guidance is designed to reduce those barriers by providing detailed, technical guidance on all the relevant calculation methods. It provides information not contained in the Scope 3 Standard, such as:
Methods for calculating emissions for each of the 15 categories of scope 3 emissions (such as purchased goods and services, transportation and distribution, and use of sold products);
Guidance on selecting the appropriate calculation methods; and
Examples to demonstrate each calculation method.
4. Flexible online course
With CDP's late June reporting deadline rapidly approaching, some sustainability officers might be looking for professional training so that they can conduct a scope 3 inventory right away.
The GHG Protocol offers an online course that covers the essentials of the Scope 3 standard. The course is hosted on an e-learning platform, allowing participants to log in anytime and move through the material at their own pace and on their own schedule.
As momentum builds for a low-carbon future, world governments and businesses alike are expected to embrace rigor and transparency when addressing their own carbon footprint. For major companies, tackling value chain emissions can reap the biggest rewards, with stakeholders and climate advocates.
This story first appeared on:
More on this topic